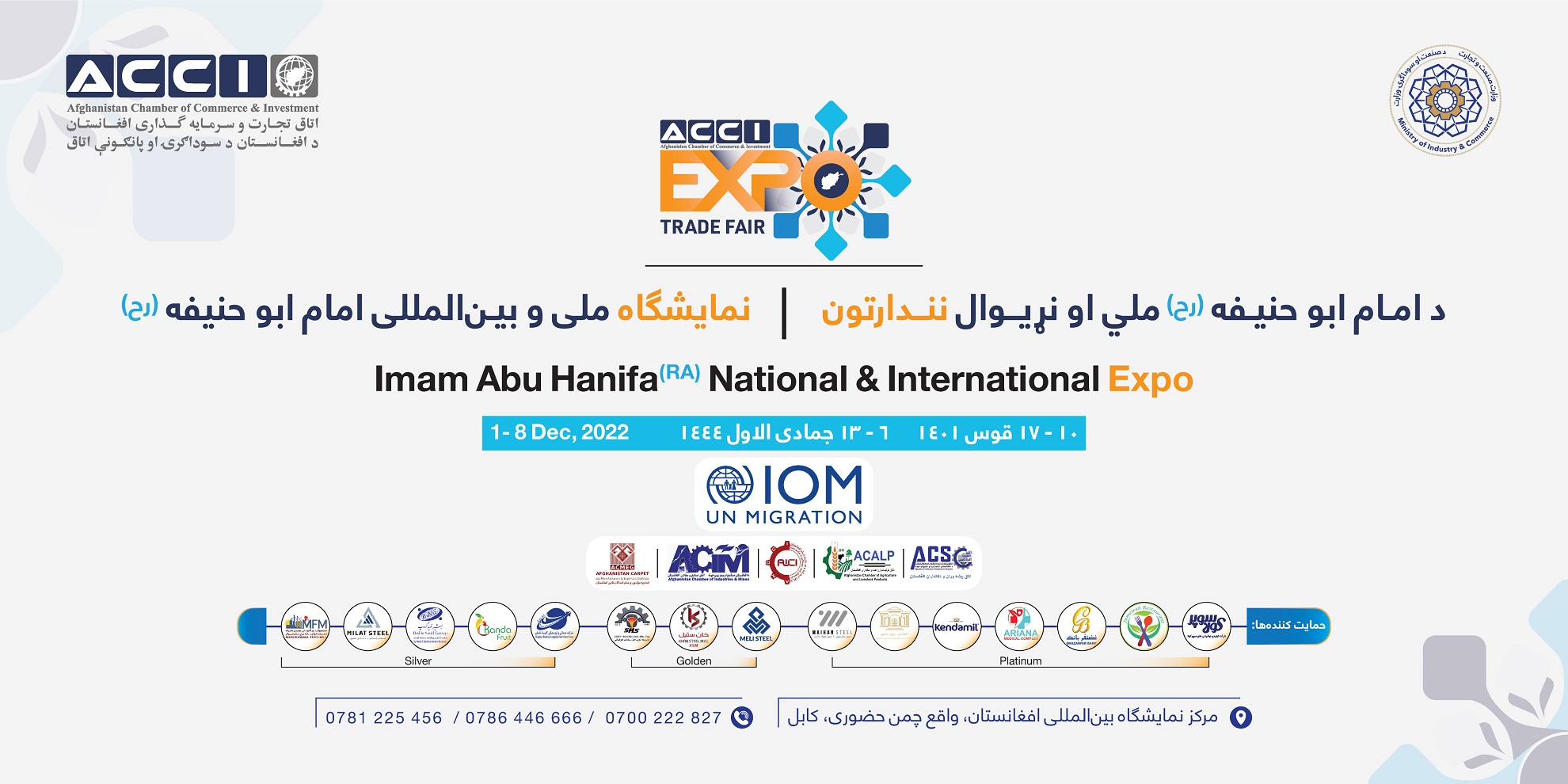 Afghanistan Chamber of Commerce and Investment (ACCI) takes the opportunity to cordially invite you to the ACCI EXPO Trade Fair titled "Imam Abu Hanifa (RA) National & International EXPO" which will convene on 1-2 December 2022 in Kabul, Afghanistan.
We would like to inform you that at ACCI EXPO Trade Fair (AETA) there would be 600 companies across Afghanistan will showcase and sell their products and services including manufacturers, raw materials, education, construction, food, pharmaceuticals, Cosmetic, Electrical, Agricultural products, Poultry, Handicrafts, Textiles, Jewelry Fashion, Sport & Equipment, Toys, Plastic, Printing & Packaging, Books & Stationery, Services Companies, etc. In this context, we are organizing AETA in December where International Partners, Officials, Business Leaders of Afghanistan, and thousands of domestic and foreign visitors will attend in person.
In this regard, we would cordially invite businessmen and businesswomen to participate as visitor or exhibitor in the ACCI EXPO Trade Fair between 1st - 2nd December 2022 at the International Exhibition Center of Afghanistan in Kabul, Afghanistan.
For Visa facilitation and Further Information, please kindly contact:
Abdul Mateen Ghalib
Deputy Director of International Relations Dep
WhatsApp: +93744405063
Email: This email address is being protected from spambots. You need JavaScript enabled to view it.
Email: This email address is being protected from spambots. You need JavaScript enabled to view it.
Please refer to the necessary information below:
Hotel Accommodation ACCI EXPO TRADE FAIR